Al surface treatment technique for radiation heat transfer
Radiant heat and durability at high temperature have possibility of new technology
Miniaturization and larger output of electronics never stop. High thermal conductive aluminum is well known for using at electronic product on demand. However It is hard to be fan-less since aluminum has low heat radiation. So we changed aluminum surface to ceramic by precipitation in special alkali solution, and achieved development of new technology releasing highest thermal radiation. Thermal radiation rate is improved from 4% to 90% and cooling effect became in their scores degrees by this development.
Al surface treatment technique for radiation heat transfer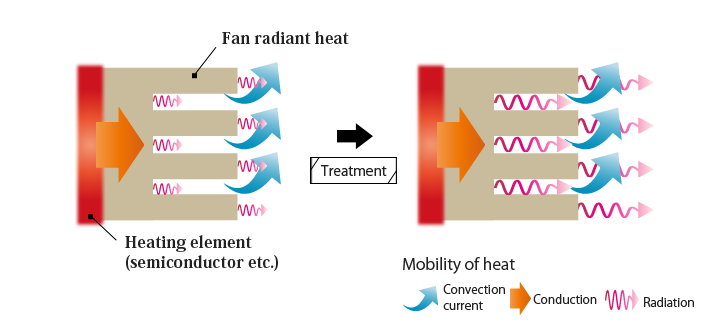 Subject area

Chemical polishing for big-sized Ti alloy
Polishing technology for big-size is from physics to chemistry
Big-sized Titanium alloy which is used in aerospace industry is widely known as high requirement spec of surface treatment. According to the requirements level for quality of NASA standard, it can be imagined how strict is it. Polishing of big-sized Ti alloy has been machining or buffing grouts, but it is inefficiency for cost and deadline. We polish big-sized Ti alloy by chemistry solution.
Chemical polishing for big-sized Ti alloy

対象分野